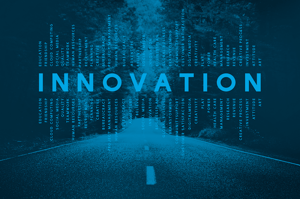 The Forest and the Trees -
In today's fast-paced market environment, organizations must continually improve products and services to compete. This has led to the emergence of innovation processes like Agile that enable development teams to respond in an incremental manner to bring new products and features to market. Notwithstanding efforts to facilitate speed of innovation, the market remains littered with products and companies that have been disrupted by new approaches to solving problems or serving unmet needs. This conjures up the age-old analogy of the forest and the trees, where approaches like Agile help you navigate through the trees but may not allow you to see an oncoming forest fire.
Agile approaches (to both product development and research) are useful for providing incremental improvements that are valued by customers. However, as Michael Dolenko pointed out in a previous blog post, The Speed Traps Insights Teams Should Avoid En Route To Business Agility, there can be pitfalls in focusing on speed at the expense of asking the right questions. In this article, I'd like to explore the need for a more holistic approach to using insights across different stages of the innovation lifecycle, including stages where products are not yet conceived or are already in the market.
Populating the Innovation Funnel
Value-driven innovation either addresses underserved needs (or wants) with existing products, or unserved needs relative to problems that consumers or business customers are trying to solve or things they are trying to accomplish. The former might be captured in Agile development processes, with customers providing input around improvements they would like to see or development teams gathering quick feedback on proposed enhancements. However, by focusing solely on enhancing existing products or solutions, more fundamental break-through opportunities can be missed. Most companies inherently know this but tend to get wrapped up in the here and now.
This points to a need to step outside the development process to ensure a deeper dive of evolving market needs and developments. Techniques such as ethnography and contextual research can help to identify and understand problems that customers and prospects encounter in different situations (relevant to a business). Market-based quantitative research is needed to assess opportunities (in terms of the magnitude of pain points and the potential target segments with greatest need). It is also important to take stock of emerging technologies and approaches to solving problems, including those that can be ported from other uses or industries. In addition, buying behaviour does not exist in a perpetual vacuum. Preferences can evolve over time based on environmental stimuli, making it important to survey changing preferences.
Optimizing and Communicating Value
While incremental enhancements to products can lead to value creation, this requires an understanding of what truly drives value. Even incremental development processes require priorities in terms of feature solutions. Without understanding the bigger problems to be solved and the value that customers attach to them, the process might be driven instead by internal priorities, expediency, cost or other factors.
Different quantitative research techniques (e.g. conjoint) can be used to understand drivers of value in the context of a solution and identify optimal bundling solutions to drive revenue and market uptake across segments. At the go-to-market stage, research can also be used to communicate value-based positioning in a meaningful way to market segments.
Using Insight Techniques Across the Innovation Cycle
In our experience, companies tend to rely on internally generated ideas to populate the funnel, feed these into the product development process, and then focus on the mechanics of incremental development and go-to-market planning. Not enough outside input is used to answer more strategic questions such as:
What problems or unmet needs do consumers or businesses have that might be solved to create value?
What are the right problems to solve in terms of the magnitude of opportunity and brand fit?
What technologies or approaches might lend themselves to solving high value problems?
To what extent are competitors applying new approaches in a way that might change the landscape?
How can value, revenue, and profitability be maximized in go-to-market offerings?
Companies can address time-to-market challenges and ensure they keep a pulse on broader market changes and opportunities by combining a range of agile and deep dive insight methods across the innovation cycle.
Insight Methods to Support Value-Based Innovation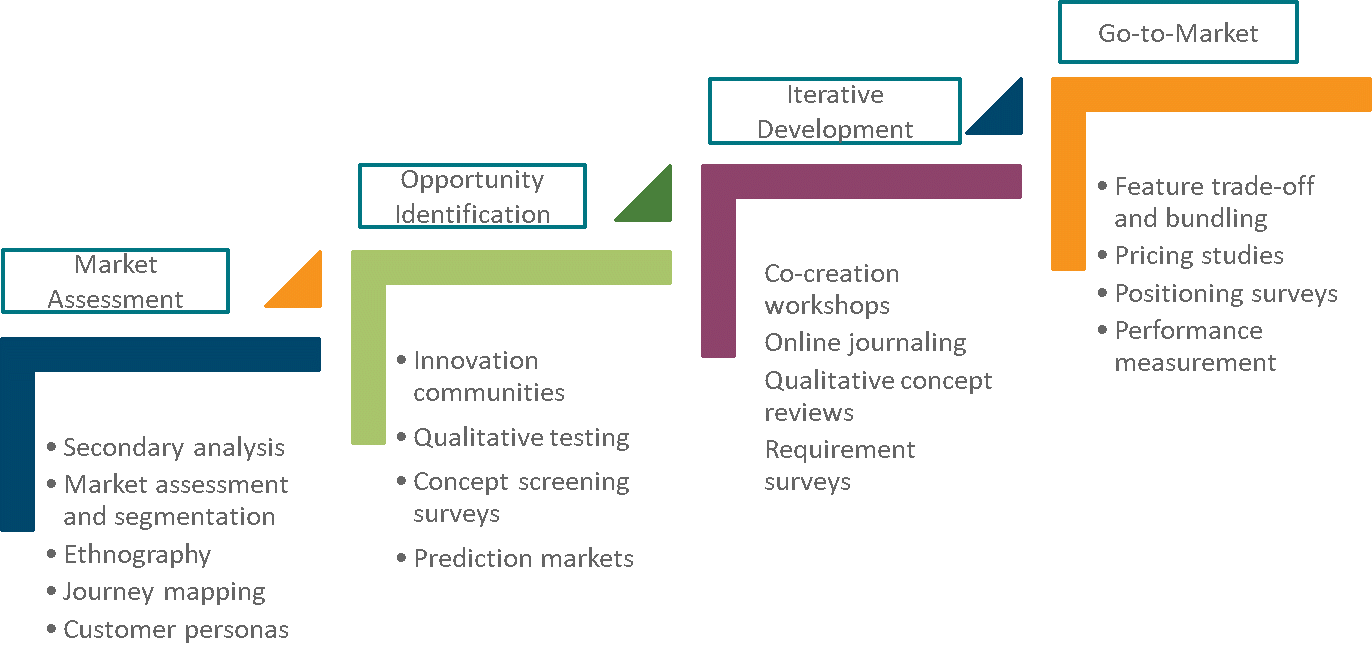 Conclusion
Insight managers are in a unique position to provide the broader perspective and skillset needed to ensure a more well-rounded, strategic approach. Rather than responding to individual requests from product managers and developers, they can play an important role in developing research programs that cut across product markets and internal teams to better leverage insights, feed the innovation funnel, drive value and help their organization compete in today's fast-paced environment.