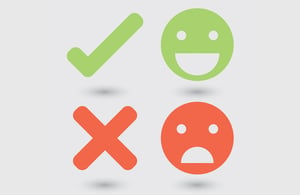 The importance of making an emotional connection with your customer, even when taking their money or fixing problems.
Telcos have invested heavily in upgrading everything related to billing and payment. And everyone knows this was long overdue. With effort, learning and the integration of many moving pieces back-stage, companies that many love to hate deserve credit for addressing frustrating experiences. In this post, we say 'hats off' to Bell Canada's residential billing operations for getting something right, even though it started off kind of wrong.
Install contractors for Bell's TV service were having some challenges finding existing lines in my home. As the customer, I clearly stated I wanted no new wires running across baseboards or over furniture for that matter. The technician could only install one receiver, even though two were ordered. A second one was to be installed after some electrical work had to be done in the home. The technician told me not to let Bell charge for the second trip needed to install the second receiver. A short time later, the contractor went back to my home and installed the other receiver to my satisfaction.
Then came the bill from Bell. Sure enough, it was wrong. There were charges for a second visit by the technician and the second receiver. Both receivers were supposed to be free, as part of the package offered to me at the time of signing up for the service. I was annoyed with the billing error, but knew that the interrupted service call was at play here.
Then came my call to customer support to get it fixed. This was sure to be hellish. But I was quite wrong - it turned out to be surprisingly delightful. It took a short time to get past the voice prompts on the telephone system to reach a live person. A shortcut might have been appreciated (e.g. to reach a service representative more immediately, press...), but that might have taken me to the wrong department. The live person I reached was in billing. Within 3 minutes, my problem was remedied. And I could see evidence of that on my online account within 24 hours. By the next billing cycle, I had a credit for the error applied to my invoice for services.
It was frustrating to even have a billing error in the first place, but the work to fix it was timely, effective and all about me. And the sensitivity to my emotional state during the experience was on point. Here is what made it work:
she let me explain the problem, in my own words;
she was empathetic to the problem and the way I felt (she dealt with both the functional and emotional parts of the journey right up front, within 20 seconds);
she acknowledged how much of my business they had, and thanked me for entrusting Bell with it;
she authenticated me as the right customer contact quickly and with due diligence – when I forgot the answer to one of the security questions, she simply asked me something else, instead of sending me into purgatory or the queue for issue escalation;
she took a moment to pull together what she needed to see if she could replicate my description of the problem – I was put on hold for 15 seconds only;
she had access to all of the information at her fingertips to compare what was ordered, to what was delivered and when, and what was billed and when;
when she returned, she acknowledged what I described and agreed that something was amiss, and apologized for their error – and again she acknowledged that it must be frustrating for me;
there was no blaming or finger pointing at others (e.g. the contractor, someone in the installation department for ticking the wrong box) – she accepted full responsibility for the error;
she said words I wanted to hear most in that critical moment of truth – "let me fix this for you right away";
after a few more seconds on hold, she returned to report that the problem was resolved and would be corrected on the next billing cycle, reporting the amount to be credited to my account; and
she thanked me for calling about the problem, and apologized for making me feel annoyed and frustrated.
The Bell billing representative had a big role in making this experience memorable for me. She was personable, intelligent, efficient and empathetic. And she was tuned in to how I was feeling by listening very carefully to everything I said and weighing the tone of my voice. I was really tired of dealing with service providers. I just wanted to put this behind me and enjoy my new space. Maybe the rep sitting next to her could have fixed my problem also. But she had the aptitude and the attitude needed to make me feel like she really cared about my silly little $75 problem. Her care and attitude changed my behaviour. I was ready to threaten cancelation when calling about the billing error. I did not need to go there. That changed my perception of the company – from uncaring to caring, from inhuman to human, from cares about themselves to cares about me.
Every other week, I share some simple but important lessons on managing the customer experience, and occasionally the research that supports it. Sometimes, the lessons highlight something positive. Often times, the lessons focus on something negative. And full disclosure, we too make CX mistakes in our business; but we take away something valuable each time and correct it.
Andreas