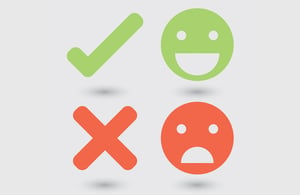 Warning: after three Bad and Ugly posts in a row, this one is about a Good experience!
We have all lived the pain points of renting a car. See if any of these look familiar to you:
long wait times to pick up your vehicle;
not getting the vehicle you booked, wanted or needed;
vehicles that are dirty or not even road worthy;
variable pricing tied to demand that rarely benefits you as the customer;
high fees for low value add-ons (e.g. a GPS device for navigation, refueling);
long travel times to get to the lot where the vehicles are waiting; and
even longer delays when returning your vehicle.
There is a lot to fix to make the experience more customer-centric.
There is however hope, as evidenced by a recent experience I had with Avis at the Denver International Airport (DIA). Denver is a very busy airport, among the top 10 in the US based on passenger volumes. Like many other US airports, DIA has moved holding areas for vehicle rental agencies to lots away from the airport hub. While this solves a lot of problems for the airport authority, it means that car rental customers need to be shuttled to and from the airport terminals to the holding lots. At DIA, major rental companies operate their own fleet of shuttles to move their customers from the airport when they arrive and back again for departure. Referring back to the pain points itemized above, I know all too well that it can very stressful to return a rental vehicle, wait for an attendant to check it out, then check you out, and then hope a shuttle comes by in the near future to get you to your flight ahead of time. Oh yes, I also have to cross my fingers that the shuttle is not too busy at peak times and has room for my luggage. And it also helps if the shuttle brings me somewhere close to the specific terminal and gate I need for my flight.
To their credit, Avis nailed this part of the experience. Someone did their homework on the vehicle return part of the experience. First and foremost, Avis really understood the persona of the airport traveler. Take note: the customer is an airport traveler in this instance. They are not a car rental user. The car rental is part of a much bigger experience. It is just another step needed to provide a servant function to travelers.
These travelers have a functional need to get to their final destination, safely, and on time. Many are stressed (me, for example). Some are stressed to the max. What they really want is to get to where they are going without a lot of hassle, somewhere close to the time (or even the date) they wish to be at their destination. The entire airport experience can be so frustrating to travelers because they have so little control over what happens to them. Avis went to great lengths to put that control back in my hands as the airport traveler.
Was my vehicle return experience perfect? No, but Avis did do many things right. It understood my goal for this stage of the experience – get me on to the next stage of my journey as quickly as possible, without hassle and help me feel a sense of control:
the signage was visible and repeated at regular intervals to tell me exactly where to return my rented vehicle;
I simply had to leave the keys in the car and walk away, after removing everything I owned (there were many signs for that also) – I did not have to wait for an attendant to inspect the vehicle;
if I had had an issue (e.g. forgot to refuel the vehicle), I was able to connect with someone there if required, or I could arrange to tackle that later by phone, online chat or email;
it was rather busy with other travelers like me, but there were several shuttles waiting to ferry us to the terminal;
the shuttles were like city transit buses, with lots of room for my luggage and many seats;
Avis did NOT wait to fill the bus with travelers – instead, the embarking process was timed to last only a few minutes, so that I was not waiting for 10 minutes while everyone stepped on board;
everyone had a place to sit – no one invaded my personal space due to over-crowding;
those who did not get on my shuttle had another one pull up immediately behind mine as the queue sequence unfolded – they really had no longer wait, they simply jumped on a roomy shuttle available for them;
the driver quickly helped everyone get their luggage on the shuttle and asked them to listen carefully to the announcements about terminals and gates for flights;
the driver asked me what airline I was using, then told me which terminal I needed to exit the shuttle;
an automated message scrolled on an electronic screen to tell me and others how much time was left before reaching specific terminals at the airport – I didn't have to guess or stew about how long it might take;
the shuttle stopped at specific gates and announced which flights were departing there – it then said which flights had gates coming up at the next stop;
when the shuttle stopped, it took only a few short minutes to help passengers disembark and get their luggage; and
the driver was friendly and courteous, and very helpful to those who had questions.
Mine was the last stop on the shuttle. The entire experience took 15 minutes. I knew what was happening, when, and how long specific steps were going to take as I counted down the minutes to reach my gate. I did not have to sit on my luggage or smell what the person beside me had for breakfast that day. I have never felt this relaxed and in control when returning a vehicle I rented. Now, imagine how much joy I might have felt if they had served me a latte on board! One can dream, right?