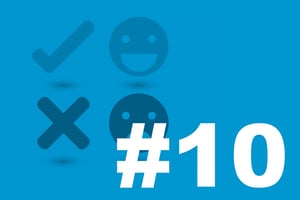 Online Parts Replacement Experience… Refreshingly Good!
Ever try to order parts, for anything? Ever want to pull your hair and teeth out at the same time? Ever wonder how an experience could be so bad because the provider never, ever imagined anything from the perspective of the customer?
I was not looking forward to finding replacement parts for a shed. I felt doomed. My mind went back to my days of working in an auto repair shop where you had to scour many printed manuals of parts to find what you needed. It was laborious, taxing and very ineffective. It was almost impossible to find and order the right part on the first attempt, even for seasoned mechanics.
I was hoping to self-serve online on the premise that it would be faster, cheaper and more effective, particularly since I did not know the name of the part I needed or even the model name or number of the shed. Sure, I could have called the company, but I feared that would take longer and result in getting the wrong parts. I had visions of being in the telephone hold queue forever, dancing through some macabre translation of what I felt I wanted and what they believed I needed.
40 years on, the Internet had to have made this better…
The story begins when I realize that I need a small utility shed that could store some tools and outdoor gear. I wanted a colour that matched the house. I found one that fit my needs and did not break my budget. I decided on a prefabricated shed that I had to assemble myself. The shed materials were made from a wood-polymer composite. It is more sturdy than I expected and actually looks quite nice. I managed to build it in a few hours, without too much trouble. Every single part was included in the shipment. No part was damaged. The instructions were quite easy to follow. The manufacturer even provided extra screws, nuts and bolts. This is not always the case. By the time the shed was constructed, I was rather proud of my little project and quite impressed with the buying and building experience. So far, so good.
About two months after that, a strong gust of wind caught one of the doors and blew it hard against the door frame. The two hinge bolts that attach the door to the door frame sheared right off. My shed no longer had a working door. This was my fault for not closing the door properly after getting something out of the shed.
I tried to find the instruction manual for the shed in my files at home, but had no luck. I had squirreled that thing away really well. It will show up one day when I need to fix something else!
So off I went to try to find these door hinge bolts online. This was surely going to be hellish. As noted above, I could not recall the model number or the name of the shed, let alone the name of the part or a part number. I was convinced that no supplier in Canada would have such a thing. I was destined to spend hours looking up something on the Internet, only to find and order the wrong thing anyway. I would then have to pay some outrageous price and have to wait months to get the wrong parts delivered, perhaps more than once.
My expectations were low. My actual parts experience was… delightful.
I used the Google search engine to type in the name of the manufacturer and 'shed parts.' On the first page of results, about four lines down, I saw a link that referenced the company by name and ordering parts online.
After clicking on the link, it look me to a landing page I did not quite expect. I really thought I was going to land on something that resembled a printed parts catalogue photocopied onto a web page, where the font size is 5 and everything is jammed into one page. I intentionally used a PC to do this, thinking that the mobile experience would be 100 times worse. I also expected banner ads to appear everywhere. Instead, I was taken to a parts area of the site where I was prompted to select a product category of interest first. 'Sheds' was one of several options presented on a very clean, easy to navigate page.
I was then directed to select the shed for which I needed a part. They showed the sheds by name and an associated photo. And the photo colours could be toggled and changed, as some sheds are offered in a range of styles and colours. Within seconds, I found my shed. I did then recognize the name, but it was the photo that made this super easy to find my shed.
I was making headway. I was still expecting the other shoe to drop around the next cyber corner…
The next part of the experience again did not match my doom and gloom expectations. This shed has what seems like a 1,000 parts. Surely they were about to dump me onto a page of goofy part names and numbers that I was supposed to know. That did not happen. They allowed me to zero in on a section of the shed by clicking on some buttons, which also had supporting photos (e.g. floor, roof, supports, windows…doors). Alternatively, I was also able to search using a search function on the site that was quite intuitive. I back checked it later. The search function got me to the same place if I typed in 'door,' the actual part name and even 'door hinge thingy.'
After clicking on 'doors,' it took me to a page that had all the door parts and corresponding photos of every part. I could zoom in on the photo to see finer details of the part. I could even rotate and flip the image to see it from different angles. This is really helpful since two parts often look the same but have a different design feature to accommodate a different function. Within seconds, I found my part. It looked like a perfect match to the ones that were broken.
By the way, for interest, I repeated the entire process on a mobile device. I could not believe it. They built that experience for mobile! This is not that easy to do when showing pictures of sheds. I had to do a bit of page panning and scrolling, but that was ok. They created the experience to resemble photo apps, ensuring that each image repositioned itself in the full screen of the device. One flick left or right, or up and down, and the next image appeared. If necessary, I could touch a button on the screen to return to the start. They even permitted the image zooming and flipping on my mobile device.
Coming back to my order fulfillment, the screen with my part on it requested that I enter the number I wanted to order. After completing that, the site directed me to an online form. It requested that I provide some contact details, shipping information, proof of payment and photos of the damaged parts. It even allowed me to explain the situation a little, which I did. The page provided email address details for sending the proof of payment, and allowed me to copy an image of the broken part into the form. I hit the button to submit my request.
I was expecting to go to a payments page, but instead got a notification online and later by email that my request was being sent to a parts specialist who would follow-up with me. My spidey senses were tingling again. I was about to be raked over the coals by the parts police who would inevitably deny my claim or give me the run around.
Within 24 hours, I received an email from the specialist. She confirmed that the parts I ordered were indeed the replacement parts for this shed, based on the photos I provided. Think about that for a moment. That great online hunting and pecking experience could have easily been undermined without some kind of confirmation from someone with inside knowledge that I had indeed ordered the correct part for the right shed. She even suggested ordering one or two extra in case it happened again. She confirmed my shipping coordinates and said it would take 5-8 business days to get the parts. She also said that normally replacement parts need to be paid by the customer if they had a hand in the damage of the original parts. I was quite willing to pay for them. It was my mistake that they were damaged. She declined, noting that it was more important for the company to stand behind its product. This email exchange required two emails, and very little of my time.
After 5 days, the parts arrived. They fit perfectly. I was relieved and surprised. This experience was entirely different from my expectations.
Key takeaways
It is good to build an online experience that destroys all of those negative expectations, and which leverages the unique features of the digital medium;
It is bad to assume that end-users have the same level of technical knowledge as the designers and engineers who make machines or hard goods that have many parts;
It is ugly to imagine having a well-meaning consumer do something more than once simply because no one thought to let the expert review a spec before a request is fulfilled.