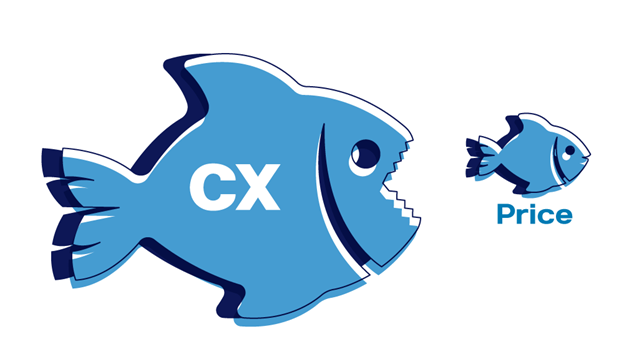 What if your organization had the data to show that an investment in Customer Experience, or CX, would yield better results than beating competitors on price? How would that impact your business strategies, your bottom line, your stress levels? Take a closer look at the results of our study, and you'll see that Customer Experience may indeed be the element upon which you now need to focus.
How Companies Perceive Customer Experience (CX)
In partnership with TMG International, we surveyed a group of executives in medium to large-sized organizations across Canada, covering a variety of industries, to assess the State of Customer Experience in Canada. While they understand that Customer Experience is an important driver of Customer Satisfaction (and Customer Dissatisfaction), it's clear that they underestimate its importance relative to other factors such as Cost/Value, which includes Price.
Our parallel survey of Canadian consumers showed that the single largest driver of Customer Satisfaction from their viewpoint was the "effort" they feel they have to put into making a purchase. "Effort factors make up 50% of the customer (dis)satisfaction drivers," according to our results. By comparison, organizations attribute less than a third (31%) to this element of the experience they deliver. Also according to consumers, just 6% of Customer Satisfaction is driven by Cost/Value, while organizations give these factors more than double that weight (14%).
Top Chart: What Organizations Think Drives Customer Satisfaction and Dissatisfaction
Bottom Chart: What Customers Report Drives Their Satisfaction and Dissatisfaction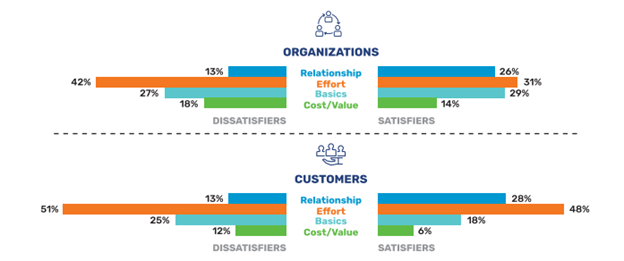 What do these numbers mean? Ultimately, they support the premise that consumers will be willing to pay more for an experience that goes the extra mile. And while companies somewhat understand the role of Customer Experience, they undervalue it compared to Cost/Value.
Improving Your Company's Customer Experience (CX)
Armed with the above data points, what can companies do to generate more success from their Customer Experience efforts? Start with a plan. In our survey of executives, "a mere 9% have an actual CX transformation plan in place." This is largely due to internal barriers reducing operational effectiveness. "Only a third of the organizations reported to be internally aligned around the need to become CX-focused. And a third are not aligned at all! That's a lot," our survey reports.
One recommendation for improvement is to name a single person to lead the Customer Experience effort. Most organizations have no clear ownership or try to split it between the executive team and employees resulting in confusion and employee disengagement. With a leader in place, that person can assess the situation, identify where gaps exist, and begin to communicate and address them.
For more details and the latest results, connect with Phase 5's own EVP of Marketing and Development, Stephan Sigaud (stephans@phase-5.com). We will be releasing updates to our State of Customer Experience in Canada Study soon.
Looking to hear more about the future of great Customer Experience and how to deliver it? Be sure to stay posted to the Phase-5 website for new blogs and whitepapers on the subject.