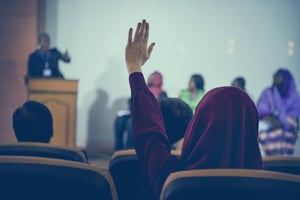 The strength of any association is defined by its membership, and when the number of members fall - or the revenue the association generates through them falls - tough questions demand to be asked.
One client organization, for instance, was targeting both individual members and large companies. As they noticed that revenue from those large companies was really starting to erode, we were brought in to help them paint a realistic picture of what their future might look like if the situation were left untouched.
This is what we asked them:
"Are you sure you really understand what your members want, and how you give them value? Are you confident that they all want the same thing?"
Companies and individuals join associations for all kinds of reasons. For some, like those in the medical field, it's a requirement. In other cases, an association gives them access to information or other resources they could not get easily or at all on their own. And for some, being part of a professional association simply confers credibility.
Investigating where and how an association brings value to its members may be the only way to ensure you retain current members, attract future ones and sustain the various activities the organization supports.
Making the business case for market research may be challenging, however, if the association lacks a champion, or if the chief marketing officer doesn't have the same degree of influence that it might in another kind of organization.
Consider the following ideas as a potential way to start the conversation about where market research could not only help solve problems, but shape the association's long-term future:
1. Establish A Minimum Viable Feedback Loop
The startup world has learned a lot from the idea of creating a prototype or "minimum viable product (MVP) to test whether it has the right product-market fit. Similarly, associations can use inexpensive techniques to show why an investment in a more comprehensive market research program makes sense. This could include the use of feedback forms at meetings and events, or landing pages on their web site. The point is to start a process of having a real conversation with members about what they want out of the association.
2. Experiment With Baseline And Project-Oriented Research
Some associations conduct an annual study with members, while others pursue topical research around a particular industry issue or question. The most successful clients we work with tend to do both. That said, a baseline study of member issues could be run once every two years, as a sort of "pulse check" to understand how members perceive the benefits of being involved, for example.
3. Drive Engagement With A Promise To Share The Outcome
It's not always easy to get members to answer survey questions or take part in a focus group. Look beyond financial incentives and position a market research program as a way of staying relevant. Make members feel from the beginning that they will be part of any change that comes out of market research, even if it's just a commitment to sharing the results. When they feel like they're being included in an important process, participating feels like less of a chore.
4. Consider How You'll Tell The Story That Emerges
Lots of associations put out long, detailed research reports via PDF or download, but there are many ways to share market research in a way that leads to more engaging and meaningful value for members. This includes infographics and -- perhaps most powerful of all -- video that brings the data to life.
Final Thoughts
Groucho Marx once joked that he never wanted to belong to a club that would have someone like him as a member. In most associations, though, people and organizations not only want to feel like they deserve to be there, but that they are part of a true community which values their involvement.
If associations do market research and do it well, it won't be seen as a navel-gazing exercise but as evidence that the customer experience of all members is being treated as the highest priority. In the end, what you learn may not mean the association has to do more. It might mean fewer activities, but ones which tie more directly into the reasons members joined in the first place.
- By Sam Fiorino
At Phase 5, we bring together experts in marketing research, user and customer experience, innovation and design. This unique, collaborative approach drives business results by applying strategic insights to your product development, go-to-market and customer relationship decisions. We'd love to speak with you!