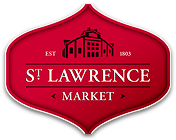 Phase 5's Adam Yuzik led a community consultation October 2 on market hours at St. Lawrence's South Market. The lively session included residents and market vendors and stakeholders who gathered to learn about a major visitor study conducted by Phase 5 and to provide input on potential changes to St. Lawrence's opening hours.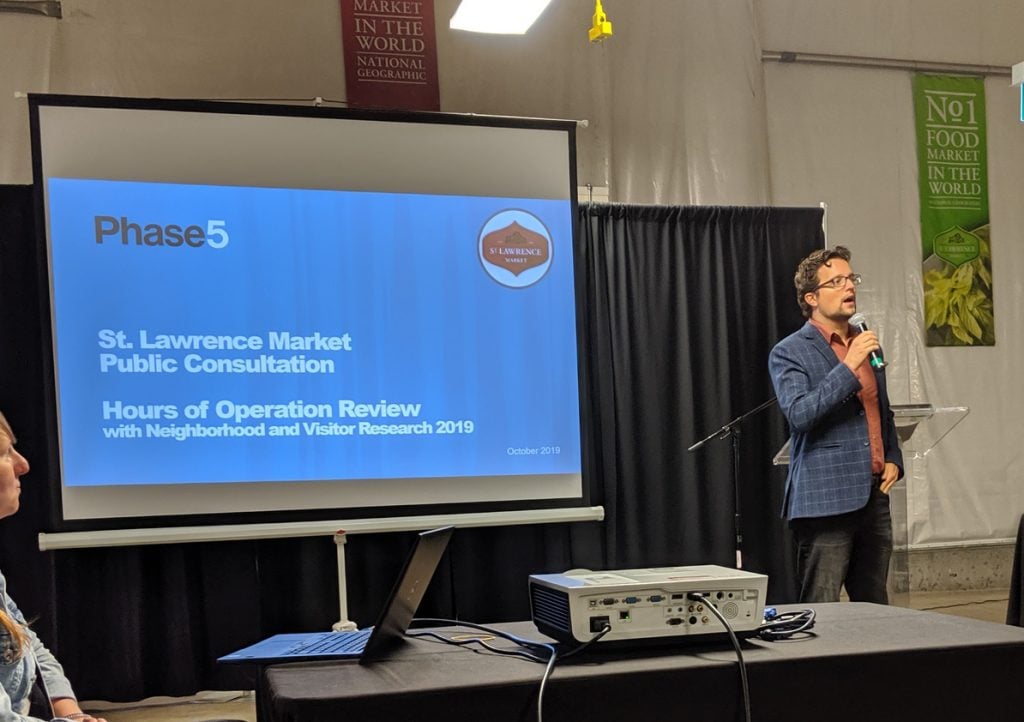 Named the World's Best Food Market by National Geographic, St. Lawrence is in a strategic planning process that includes a review of its opening hours. Unlike many other North American markets, St. Lawrence is closed Sundays and most weekday evenings.
Adam presented finding highlights from a study of Toronto residents and market visitors he conducted with Christine Sorensen a VP at Phase 5. Their study examined perceptions of St. Lawrence and provided input on who visits the market and feedback on their experiences. The research revealed a changing make-up of market visitors with evolving shopping behaviours. Some key insights included:
The Market has a strong brand, both in the surrounding community and in the Greater Toronto Area. Visitors are drawn to the quality, freshness, and variety of food products offered and most feel that the Market delivers in spades.
Tourists make up a growing share of the visitors to the Market and often are seeking to purchase a meal or dessert.
Most neighborhood residents expressed strong interest in the prospect of the Market expanding their operations to include Sunday and/or Monday.
In addition to conducting the research, St. Lawrence asked Phase 5 to facilitate a public consultation on market hours. More than 100 people turned out Wednesday evening to make their opinions known. Some nearby residents lamented the early closing on weekdays as it meant they were not able to shop for fresh food on their way home from work. And while others argued that the market should be open 7-days a week to meet the needs of busy families and professionals, some long-time merchants noted that would have a significant impact on their operations as well as their family life.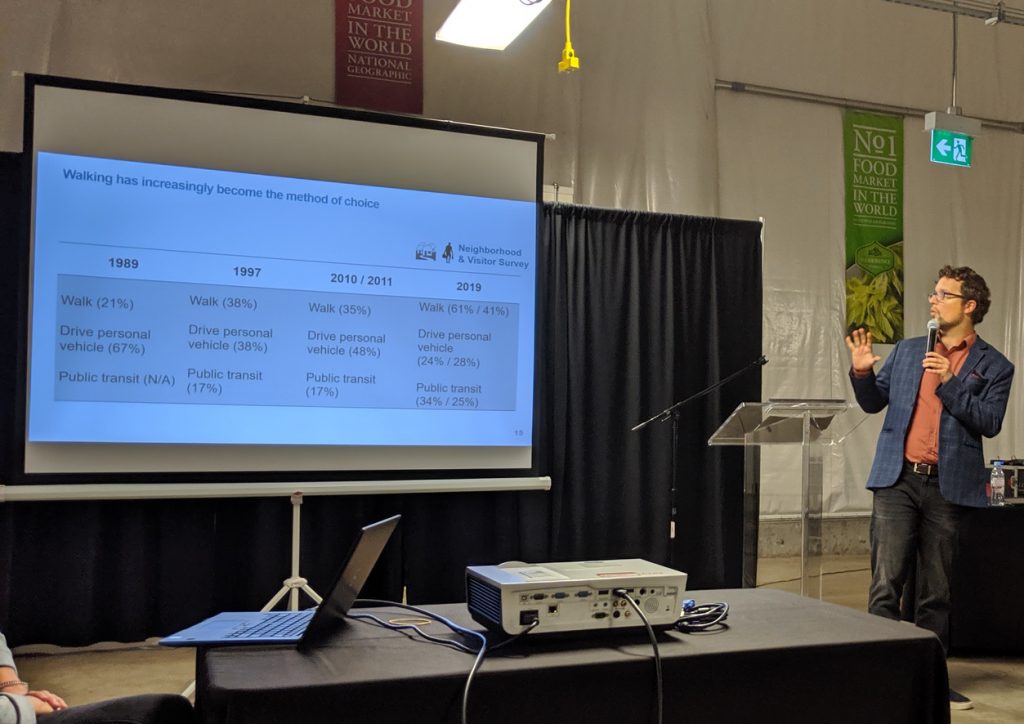 "The City will need to balance a range of viewpoints and interests," said Yuzik. "As the face of the neighbourhood changes, residents are looking for extended hours, and tourists are becoming a bigger constituency of market visitors. At the same time, merchants are small and often family run businesses. Operating 7-days a week makes it difficult to find down-time and may require additional investment in staffing. I think the strategy is going to need to be one of 'optimizing' the hours to find a solution that meets these various needs."
With detailed data on its visitors, St. Lawrence will be in a better position to plan for changes and communicate with stakeholders, shoppers, and Toronto residents.