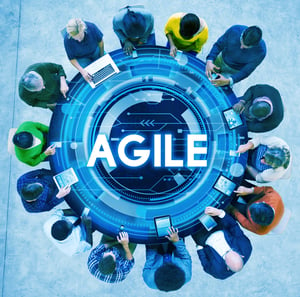 We may be living in the midst of a "slow food" movement, the rise of "slow fashion" and even "slow thinking," but in most businesses the pace has become increasingly fast -- and more often than not, furious.
Agile development methodology has disrupted the way software applications at first - and by now most product innovations - are created by using smaller teams and design sprints. And as we discussed in a comprehensive white paper we produced on agility in business, this has placed new demands on insights teams.
Our previous blog post on this research urged insights groups to adapt and make sure they aren't sidelined amid this shift. It's also important to point out, though, why organizations may need the voice of their expert researchers to be heard more loudly than ever before.
The Chicken-And-Egg Dilemma
In their haste to be transformative and innovative organizations can sometimes fail to properly define the problem they're trying to solve.
We worked with a financial services firm, for example, that wanted to see the way customers would try one of its services for the first time and moved quickly to develop a mobile app to automate much of the process.
There was just one problem -- while a mobile-first approach should appeal to a younger demographic in theory, this was a scenario where a more personalized approach was more important. Customers needed and wanted personal hand-holding (in person or by phone) as they thought through an important financial decision.
In other words, business agility had gotten ahead of strategy.
This is not an isolated case, of course. In fact, a recent article by the Wharton School Of Business suggests that, in rushing to act like a startup, firms often overlook some of the real barriers to reaching their desired outcomes.
"To support their agility efforts, many companies have applied 'cosmetic' digital-age solutions, such as hackathons, agile meetings (for example, short daily standup meetings to discuss progress and obstacles), and new visualization techniques and creativity tools," the author writes. "However, most companies have not yet created an environment that truly prepares them to reap the rewards of agility. Often, their ways of working have been shaped by a tradition of emphasizing functional excellence over agility, as well as systems that favor expertise over open-mindedness."
Instead, the author suggests organizations need to learn from the concepts behind meditation and mindfulness exercises to help clarify their goals and the research required to achieve them.
'Anyone Can Be A Researcher' Syndrome
This tendency to value speed over asking the right questions is another potential pitfall in the research and insights space. We've dealt with clients, for instance, that enthusiastically buy into the idea of using ethnography to learn more about their customers -- and then want to do it within a four-week sprint. Others might purchase a survey tool to save time and money, but then fail to gather the quality data they need.
Bear in mind that, even as they try to articulate the value of proper research design and a more strategy-lead approach to business agility, insights teams may be talking to colleagues who are fed up with delays from other areas of the business. We've seen situations where an online survey might be ready for deployment from a design perspective but is pushed back for weeks or even months because the IT department has not gotten to the request yet.
"Once you begin launching dozens or hundreds of agile teams, you can't just leave the other parts of the business alone," a recent article about scaling agility in Harvard Business Review warns. "If your newly agile units are constantly frustrated by bureaucratic procedures or a lack of collaboration between operations and innovation teams, sparks will fly from the organizational friction, leading to meltdowns and poor results."
Conclusion
It's not just a fear of being displaced that should drive insights teams to ensure they are included on transformative projects that require Agile methods or a move towards greater agility.
Insights teams also need to ensure they use their role to help keep real business needs at the forefront. They not only need to help design good research but also talk about why the most powerful answers don't come by taking a short-cut on the right questions.
Achieving business agility might require shifting to a mindset of 'Let's settle for something that's 90% of what we want but gets done in half the time and two-thirds of the budget.'" That may be easier said than done, but if they can make themselves heard, insights teams might be in an ideal position to help firms strike the right balance between doing things quickly and doing things right.
For more on this topic, get the complete white paper: Are Your Insights Agile?