Phase 5 is thrilled to officially announce that we have been recognized as one of the top market research firms nationally by UpCity!
Whether you're in need of insights for product innovation, user and customer experience, go-to-market strategy, or advanced analytics, our team is ready to tackle the challenge and help your organization become more customer centric. We have expertise in a wide range of industry sectors and ensure that our clients always receive actionable insights that drive real change. Our company with its US headquarters in Minneapolis has been recognized by UpCity as not only one of the best Market Research Firms regionally but also nationally in the United States.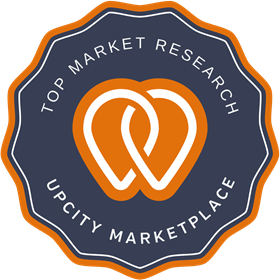 UpCity is a resource that helps connect businesses to service providers they can trust. With more than 70,000 listed providers—from marketing agencies to accounting firms to HR consultants to IT specialists—2 million businesses (and counting) have visited UpCity to research and identify the best partner for their needs.
UpCity's proprietary algorithm utilizes a variety of digital signals to measure the credibility, trustworthiness, and recommendability of B2B service providers across the U.S. and Canada. These digital data points like reviews (both on UpCity and other third-party review sites), presence in relevant search results, domain authority, website speed and experience help UpCity connect businesses with outstanding service providers like Phase 5.
Dan Olson, CEO of UpCity, had this to say about the Phase 5 team:
"Having the right information is essential to making intelligent business decisions.
Companies like Phase 5 enable their clients to act and spend smarter."
- Dan Olson, CEO, UpCity
This recognition has been driven in large part by our perfect 5-star UpCity review rating. Here is a recent piece of feedback we've received from one of our clients:
"Their expertise, know-how, agility, and processes really helped us conduct our
new product development research in a short amount of time with excellent
results, geographically driven (Spain and France), and it really helped us to
consider and balance product and design features. I fully recommend them if you
have similar needs." - Jaime Vilaplana
Thank you to our clients, partners, and to UpCity for this recognition.