It's no secret that economic forecasts for 2023 are uncertain. According to a January 30, 2023 post by the International Monetary Fund (imf.org), "The global economy is poised to slow this year, before rebounding next year", citing the continuing fight against inflation and political upheaval as contributing factors. That said, recessions, downturns, and challenging times have happened before, and they'll happen again. And while some businesses will no doubt suffer in this environment, others will come out stronger. In our 30+ years serving clients at Phase 5, we've witnessed these success stories first hand.
We have observed that one of the keys to successfully navigating uncertain times is a focus on customer centricity. In other words, the better an organization understands its customers and their changing needs in a time of uncertainty, the more effective it is at knowing what and how to change to meet those needs. When the external environment is changing quickly or dramatically, it can be overwhelming for leaders to know how to respond, and how to apply their limited resources. Sometimes intuition helps, and often experience helps, but we know that better data and insights always help.
At Phase 5, we've seen how customer-centric insights have helped our clients mitigate the impact of down times by sharpening their Innovation and Customer Experience Management strategies. Whether through segment definition and prioritization, new product/service development, or through the elimination of pain points in digital interfaces or customer service processes, a better understanding of customers reduces business risk and improves effectiveness. This is the first article in a series where we'll share more about how customer-centricity can improve business resilience, helping you prepare for this year and undoubtedly other challenging years in the future.
INSIGHTS TO (RE)DEFINE CUSTOMER SEGMENTS
Even if you've been in business for only a few years, your customer has changed. The truth is, your customer is always changing. Sometimes it happens gradually, but sometimes it happens fast, and not recognizing the change can cost you. In an economic downturn for example, your customer's budget may shrink for certain spend categories, but increase for others. The very need for certain products may cease to exist, but at the same time, new products may need to be created to satisfy emerging customer needs.
Consider the excerpt below, from HBR's April 2009 article, How to Market in a Downturn (written at the time of the last major recession) which divides consumers into 4 segments according to their attitudes toward spending during a recession: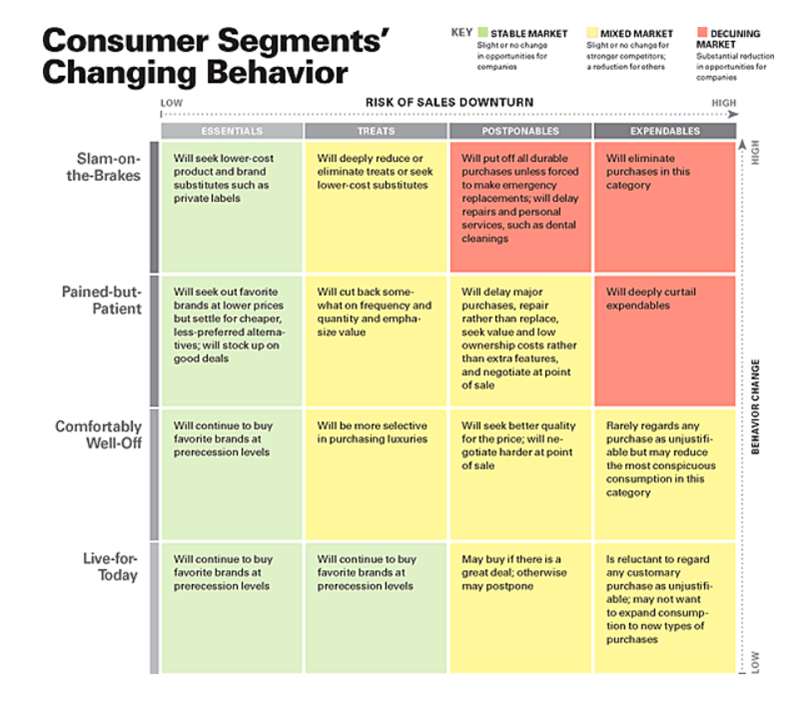 Depending on the type of consumer and the nature of the product/service, the above chart succinctly assesses business risk at a high level.
Obviously organizations whose offerings suddenly become obsolete or "expendable" will be especially challenged to weather a recession. However this scenario is much less likely to happen when an organization knows its customers, and makes it a priority to monitor their rational and emotional needs in order to anticipate and respond in a meaningful (and intelligent) way. Thoughtfully designed Customer Journey Mapping and Voice of Customer studies can enable businesses to keep their finger on the pulse of changing attitudes and behaviors.
When major market shifts are expected (e.g. new competitors, new technology, behavioral shifts), a dedicated study can shed light on specific aspects such as willingness to pay for products, unmet needs, or the overall metamorphoses of best customer segments. Phase 5 recently worked with a service provider to medical professionals, and through a combination of quantitative and qualitative research approaches, we were able to identify and prioritize 5 "gold level" opportunities and their target customers based on perceived needs and willingness to invest. The results in this case led to a compelling new value proposition to help maintain and grow the business.
EFFICIENT INNOVATION THROUGH RESEARCH
Sometimes customer needs are understood well; so well that the market is flooded with competitors and options. How can an organization build sustainable competitive advantage and future-proof itself in those circumstances?
There is often a better, faster, cheaper way to create an existing product or service. The trick is to figure out the better, faster, cheaper solution in a way that is still profitable. Market research can help reveal the gaps in existing models, as well as elements that are ripe for improvement. According to McKinsey's June 2020 article, Innovation in a Crisis: Why It Is More Critical Than Ever, "In past crises, companies that invested in innovation delivered superior growth and performance post-crisis. Organizations that maintained their innovation focus through the 2009 financial crisis, for example, emerged stronger, outperforming the market average by more than 30 percent and continuing to deliver accelerated growth over the subsequent three to five years."
At Phase 5, we have had success applying a combination of Customer Journey Mapping with a Jobs To Be Done (JTBD) approach to solve innovation challenges. Customer Journey Mapping helps an organization step into its customer's shoes to better understand the end-to-end experience (even when it is very disjointed), as well as the key moments along the way. During this exercise, "white spaces" are often identified, and these are the jobs that are not currently being done, but need to be served. Applying a JTBD mindset reframes every question in terms of what need the customer is solving for, as opposed to what tool or solution is required. This approach tends to generate better questions and more unique and creative solutions, which can subsequently be reviewed and prioritized within the parameters of core competencies and business strategy. The result is an efficient path to product/service development that is customer-led, helping to ensure long term business success through (a) a more cost-effective process, and (b) a new offering that is truly relevant and valued by the target audience.
This customer-centric approach to innovation has been successfully leveraged by Phase 5 clients in various sectors. In general, this approach has led to the development of products, services, and on occasion, different pricing models, all based on a data-driven understanding of the customer's jobs to be done. In one particular retail client example, it led to new services being offered within stores. These services were not tied directly to product, but they attracted target customers because they were valuable and relevant to the segment.
INFORMED EXPERIENCE DESIGN, MEASUREMENT AND MANAGEMENT
Another key consideration in an increasingly competitive market is the risk of customer attrition. Businesses who have a customer loyalty strategy in place and have been nurturing relationships with customers all along will certainly be at an advantage. However in a time of economic uncertainty, it's also wise to identify anything that might cause a brand to lose customers. Of course this scenario would lead to lost revenue, but it would also lead to the increased cost of acquiring new customers versus that of keeping existing ones.
When preparing for a challenging business cycle, it's a good time to review the Customer Experience, and the User Experiences within. Especially since the pandemic, digital tools and interfaces have become pervasive across the customer experience, making strong UX a critical driver of customer satisfaction. Removing any barriers and irritants is a strong move to help ensure business sustainability, however the smart money will first understand which modifications are likely to have the greatest impact on the customer.
Consider the example of a grocery chain that offers personalized discounts to its loyalty members. This is no longer an original concept, and is an intelligent way to help retain best customers despite fierce competition. However, those discounts may be overlooked or perceived as useless if they require more effort than the customer is willing to exert, i.e. by requiring coupon clipping or searching for emails containing bar codes. Not surprisingly then, some companies have removed the barrier by enabling personalized discounts to automatically download into a customer's mobile app, thereby reinstating their perceived value, and helping retain the customer.
There are many aspects of UX that can stand in the way of customer satisfaction, and the digital landscape is constantly evolving and raising the bar. Our Future of the Interface paper offers more insights on how to critically review your UX, and is a great starting point when assessing what could be improved in order to strengthen your business resilience. A custom study can then help determine exactly where and how to invest dollars in your organization's UX, to ensure the greatest impact on your customers.
SUMMARY
Customer-centric research is a very effective tool for guiding strategic decisions about where to invest and where to pull back in order to successfully navigate a difficult time. Of course depending on your industry, your business, and most importantly your customers, a downturn will affect your organization differently. It might be a good time to review your best customer segments and dive into their changing attitudes and behaviors. Or perhaps the opportunity to develop a new product or service is knocking now. At a minimum, it makes sense to review your customer experience and address any pain points that might cost you their business and loyalty.
As this is the first article in a series about how businesses can become more future-proof by becoming more customer-centric, stay tuned over the coming months as we dig deeper into each of these three areas: Market Insights, Innovation, and Experience Management. And of course, please contact us any time to discuss how Phase 5 can help you on your journey to customer-centricity, and help your organization weather uncertain times when they occur.