From Concept Testing to Sales Initiative Support -
How We Helped Our Client All Along the Way
For our client Interac, a leading Canadian payments solutions provider, we conducted various research studies over a 12-month period to support their commercial payments strategy from initial value proposition testing of its 'Interac e-Transfer for Business' solution to identifying commercial target segments, supporting go to market / positioning strategies and creating a marketing presentation.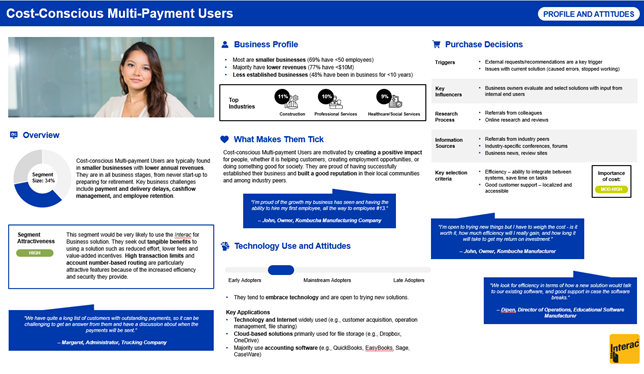 STEP ONE:
The Ask: Given the changing payment landscape and with more businesses migrating towards digital payment options, Interac wanted to validate, refine and position specific payment value propositions targeted at Canadian businesses.
The Approach: We first conducted qualitative interviews with financial decision-makers in SMBs to understand the range of existing payment workflows and solutions, elicit issues and concerns with current processes and gather feedback on Interac's business value propositions. Findings from this exploratory stage allowed us to design and conduct a country-wide market survey that addressed relevant benefits, use cases and positioning opportunities for Interac's solutions.
The Outcome: Beyond identifying key features of the appeal of the proposed business solutions, we also highlighted key considerations for developing positioning strategies and enhancing the value proposition
STEP TWO:
The Ask: Interac wanted to segment and profile the commercial market and develop commercial payment personas to help focus marketing and communications campaigns on the needs and attitudes of different segments for the roll-out of its business payment solutions.
The Approach: Using cluster analysis (on the existing market survey data from step 1), we identified three payment segments based on their payment behaviours and attitudes to different payment methods, technology and financial management. We then conducted qualitative deep dive interviews with business decision-makers in each of the three segments.
The Outcome: Using insights from the qualitative interviews and market survey, we created persona profiles for each of the three segments in terms of key characteristics, attitudes, behaviours, challenges as well as positioning and communication opportunities.
STEP THREE:
The Ask: Prior to launch of its new business payment solutions, Interac wanted to conduct research to help inform its go to market planning and activities in the broader context of digital transformations of the payment landscape.
The Approach: The research consisted of three phases, comprising of: (1) secondary research to understand the size and composition of the Canadian business landscape and payment and digital transformation trends, (2) qualitative interviews with payment experts and financial decision-makers in SMBs to understand how businesses are handling digital transformations and updating their payment processes, and to identify key trends, challenges and considerations for the market, and (3) an online survey of mid-sized businesses to understand current payment practices, pain points, decision-drivers and response to Interac's business solutions.
The Outcome: We provided guidance on positioning opportunities for the Interac business solutions, including leveraging perceived benefits and use cases of the product, addressing potential adoption barriers and overall payment related challenges, considering the broader digital context, and tailoring the marketing approach based on business size and stakeholder audience.
STEP FOUR:
The Ask: Interac wanted to create a marketing deck to help their sales team demonstrate the benefits of the 'Interac e-Transfer for Business' solution to financial institutions.
The Approach: Leveraging the research we had conducted over the past year, we synthesized key insights to tell a compelling story.
The Outcome: We designed a visual and compelling marketing presentation deck to support Interac's sales efforts.
If you are interested in learning more about Interac e-Transfer for Business, please visit: https://www.interac.ca/en/business/our-solutions/interac-e-transfer/
Contact us to discuss how we can support your organization for your next product idea or launch.