Phase 5 is excited to share that our own Lead Data Scientist, Dr. Rob Vagi was a featured speaker at "Storytelling for Data Scientists" on July 8th, 2020. This virtual event (attended by over 100 participants) was part of the MRIA's (Market Research and Intelligence Association's) professional development webinar series for 2020.
Rob's presentation, entitled "Effective Storytelling - The Hero's Journey" was one of 4 presentations to be made by an impressive panel of accomplished research experts including Laura Warren, Richard Boire, and Susan Shu Chang. All speakers agreed on how critical it is to focus on the audience, and the problem that audience is trying to solve.
Rob's presentation demonstrated how to use a Hero's Journey to frame your story, identifying each of the following as you go: the hero, their problem, the solution, and their exhortation (next steps). His Summary is below: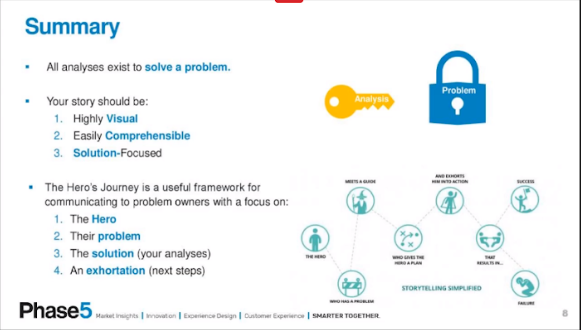 For more details, or to connect with Rob about your specific story, contact us.